What Will They Learn? 2013-14
A Survey of Core Requirements at Our Nation's Colleges and Universities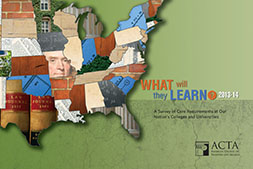 October 2013 by ACTA
ACTA's fifth edition of What Will They Learn? highlights the tremendous disconnect between perception and reality at America's colleges and universities on issues of cost, curriculum, speech codes and graduation rates. This year's study showcased 22 institutions that garner an "A" grade for strength of curriculum, but also found a four-year grad rate of just 40% among the 1,091 institutions studied. ACTA expanded the study by partnering with the Foundation for Individual Rights in Education to include speech code ratings on hundreds of universities. The report and the companion website, WhatWillTheyLearn.com, detail whether each school requires literature, U.S. government or history, foreign language, mathematics, economics, science, and composition. ACTA assigns each school a letter grade, and notes explain the grades assigned and noteworthy programs within schools.



Selected Findings
Executive Summary
A college education is rightly part of the American Dream. It is seen as the ticket to success in career and community, a credential that repays the investment of time and money that students, families, and taxpayers make in higher education. It is a major goal for our nation, too, which depends on an educated workforce and educated citizenry. But what does a college degree actually mean? Continue Reading>>
Video: College in Crisis: What's Wrong with Higher Education?
This video synopsis of the What Will They Learn? study of core curricula at more than 1,000 colleges and universities across the country reveals information every student, parent, or alumnus should know.The quality of education is going down, but tuition costs are going way up! How does your school fare in 2013-2014? Watch the Video>>
Press